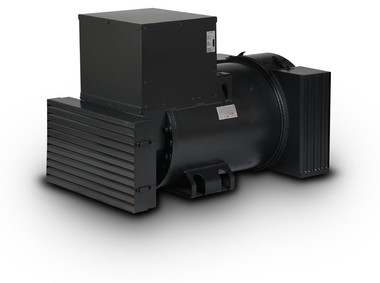 As marine alternator manufacturers, we offer many marine alternators from small water-cooled specialised products through to its fully advanced marine range that is born out of its reliable industrial series which evolved into a fully approved marine product. Supplied into both essential and non-essential duties, from the very small to the very large vessels. The BV, DNV and BKI batch type and line approval highlights the company's competence in this market sector.
In low power applications such as pleasure craft the Zanardi marine alternator product range is ideally suited where they supply small compact alternators for the pleasure boat market
Mecc Alte has BV and DNV type approval as standard, however in line with the marine alternators requirements additional in-house testing and certification can be provided in its marine text center, which caters to all major classification societies such as ABS, BV, CCS, DNV, GL, KR, LR, NK, RINA, or others where design approvals are already in place.
Contact us here for more information on our marine alternators.


EXCEPTIONAL EXCITATION

The "MAUX" (Mecc Alte Auxiliary Winding) is used throughout the range of marine alternators, and has been a proven standard for Mecc Alte in all market sectors. It is a brushless excitation system deriving power from a dedicated auxiliary winding within the main stator. This winding is protected by four layers of polyester in addition to the clear varnish and EG43 severe environment protection used in marine applications. Fitted within the main stator, it minimises overall dimensions of the alternator and ensures a compact machine.

The MAUX system ensures high levels of performance with compact dimensions, and surpasses industry requirements giving >300% forced current (short circuit maintenance) for 20 seconds.


PMG excitation is an option on Frame ECO38, ECO40, ECO43 and ECO46 if necessary to satisfy more traditional specification requirements.


CONSTRUCTION
Rigid steel frames (FeP12)


Rotors are dynamically balanced with ½ key (ISO 8821), conforms to class G.2.5 (ISO 1940)
Squirrel damper 'cage' windings in the rotor for parallel operation
Digital AVRs (Automatic Voltage Regulators) are used throughout the range, ensuring ease of replacement and maximum performance
BEARINGS
Sealed for life high quality bearings up to the ECO38 frame
Regreasable bearings for ECO40 (drive end only on 2 bearing machines), ECO43 and ECO46


PROTECTION

For marine applications, the Ingress Protection level is upgraded to IP23+ with an additional protection screen.
We can also offer inlet filters, IP43, IP45 and IP54 protection levels if required. On larger machines, we can offer CACA or CACW cooling by special order where requested.


INSULATION AND IMPREGNATION

Insulation materials are used to provide a system insulated to Class H level. Superior processes are employed to add an EG43 compound after insulation over the main and exciter windings to give marine standards of protection. Mecc Alte offers a range of insulation systems from GREY to TOTAL+ protection for operating in the harshest of environments.

MECC ALTE'S MARINE ALTERNATORS IN DEPTH
RELIABILITY
Lower component count throughout the marine alternator range, and also within individual machines, has focussed efforts to enhance the reliability of the products. In testimony to this, the reliability prediction according to the military standard MIL-HDBK-217F, was a failure rate of 75,82 fpmh (failures per million hours), 13,189 hours mtbf (mean time between failures). Standardised components are used to give high degrees of interchangeability and to reduce levels of spares stock holdings on vessels.
MINIMUM MAINTENANCE

Mecc Alte's marine alternators are built with low maintenance in mind. Bearings have up to 40,000 hours' life expectancy, and windings have high degrees of protection.

Where maintenance is necessary, access is very simple and the commonality of parts ensures global spares availability.
COMPACT DIMENSIONS

Mecc Alte marine alternators are amongst the most compact and light alternator packages available.

Machines are high efficiency, which demonstrates the technical processes and advanced design of the Mecc Alte product.
REGULATORS

Simplicity and effectiveness are key in the area of the 'MAUX' control system. Mecc Alte uses the highly reliable DSR and DER AVRs (Digital Simplified and Digital Enhanced Regulators). Uncomplicated as either may work on any machine in the Mecc Alte range. Effective because voltage control up to +/-0.5% is available and both are available for parallel operation.
The DER regulator has more features and includes automatic 3ph sensing and soft start abilities. These digital regulators have been introduced and have the added benefits of finer adjustments, remote monitoring, 3ph/1ph sensing and real-time data logging. Software is supplied by Mecc Alte.
QUALITY ASSURANCE
Our marine alternators are built in accordance with ISO 9001, accredited by Det Norske Veritas; batch and line production and product approvals also by Det Norske Veritas, Bureau Veritas and BKI; approvals by Canadian Standards Authority (CSA) and also Underwriters Laboratory (UL).

Designs are executed according to the most common specifications such as CEI 2-3, IEC 34-1, EN 60034-1, VDE 0530, BS 4999-5000, CAN/CSA-C22.2 No.14-95 – No.100-95.
ACCESSORIES / OPTIONS

A large number of accessories are available on request, including:
Anti-condensation heaters
Temperature detectors (thermistors or PT100) for windings and bearings
Higher degrees of mechanical protection with optional inlet filters, IP43, IP45 or IP55 (CACW/CACA by special order)
Parallel operation CTs
Gland plates (specific to each contract)
TOTAL+ Advanced Winding Protection System