ZANARDI GENERATORS
WELDING GENERATORS AND CUSTOMISED POWER SOLUTIONS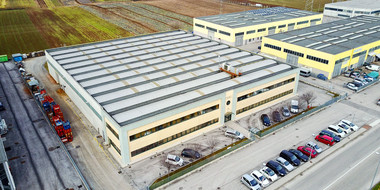 Zanardi SRL has won success at home, as well as in foreign markets, with its production of generator welding.
The validity of its products, from technical and qualitative viewpoints, has brought about a remarkable increase in the export to many European and extra-European countries. Zanardi Srl offers a professional and efficient after-sales service with very skilled technicians and a network of after-sales centers all over the world.
A forerunner in design, Zanardi defines its mechanical parts as solid design and electronic details with dedicated software.
During 2007, the scale of Zanardi increased so drastically that it was necessary to change the main production building for a larger facility.
Zanardi is a leading manufacturer of rotating electrical equipment, welders and customised power solutions. We are part of the Mecc Alte Group, which has specialised in alternator technology since 1947. When Zanardi joined the group, they bought a welding generator industry specific breadth of knowledge to an already leading company.
We are a highly flexible company, ideally equipped to meet the ever-changing requirements of the power generation sector. We are flexible, innovative manufacturers of advanced quality alternators and components. Zanardi has vast experience in many market sectors and supplies products worldwide – in a very diverse range of applications. The technical expertise and inherent quality that are hallmarks of our manufacturing capability have led to ever-increasing demand within all power generation sectors.
Zanardi is a leading exponent of quality design and employs highly effective, dedicated software. Our alternators have a paralleled similarity to Mecc Alte products due to a maximisation of joint resources and skills. We are equipped to offer a standard selection of products and also have the ability to provide customised products too. All of our welders are fully designed and tested in-house.

ZANARDI Srl
Via Dei Laghi, 48/B
36077 Altavilla Vicentina, Vicenza - ITALY
Tel. +39 0444 370799
Fax. +39 0444 370330
Email: info@zanardialternatori.it