OUR PERMANENT MAGNET GENERATOR (PMG) RANGE
PERMANENT MAGNET GENERATOR AND ELECTRONIC POWER INVERTER
Unlike traditional AC alternator systems, a Permanent Magnet Generator allows considerable benefits. Physical benefits with reductions in weight and length, coupled with electronic benefits, ensure a superior technology devised to maximise efficiency of the complete power system.
Our Permanent Magnet Generator has an inbuilt EMC filter which works in a system with a single phase inverter. Harmonic Distortion is very low at <2% giving superior waveform, guaranteeing the safe operation of modern sensitive electronic equipment.
The power density is increased using inverter technology, where the traditional excitation winding systems are replaced and the stator is central with an external rotor. This maximises the potential of the magnets used. The inverter produces a pure sine wave inverter for sensitive electronics and is supplied with an optional remote display panel. The inverter has several inbuilt protections such as, short-circuit protection, overload protection, over temperature protection and has a built-in service port and auxiliary connector with CAN support. This Permanent Magent Generator variable speed system can also be used in conjunction with the Mercurio Telecom and Hybrid DC Power Module and genset controller.
Model
Power
(max rpm)
Power Range
50Hz
Power Range
60Hz
PM3G-3 Medio
3kW
2000-3000rpm
2400-3600rpm
PM3G-6 Medio
6kW
2000-3000rpm
2400-3600rpm
PM5G-8 Lento
8kW
1700-2400rpm
1900-2700rpm
PM5G-10 Medio
10kW
2000-3000rpm
2400-3600rpm
PM7G-15 Lento
15kW
1700-2400rpm
1900-2700rpm
PM5G-15 Lento
15kW
-
2400-3600rpm
PM7G-20 Lento
20kW
1700-2400rpm
1900-2700rpm
PM7G-20 Medio
20kW
2000-3000rpm
2400-3600rpm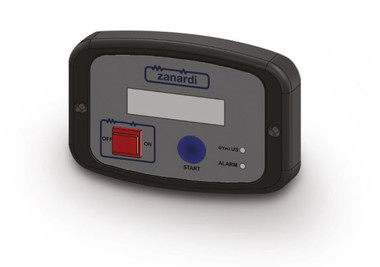 An optional board made for the control of a diesel engine is able to handle the starting and stopping of the engine during normal operation. It can also control the engine speed by adjusting it according to operation intelligence (voltage outputs and current delivered) received from the inverter through a dedicated CAN communication line. The board handles the timing and sequence of the various outputs for the proper operation of the motor control. Through an interface with a dedicated user panel (by others), you can control the start of the driver motor (i.e. diesel engine) and, once you reach a stable rotation speed, enable the voltage generation of the inverter. It also controls the inverter and motor (engine) operation and, in case of problems or user requests, takes care to shut down the entire system and report any errors.
PERMANENT MAGNET GENERATOR - FIXED SPEED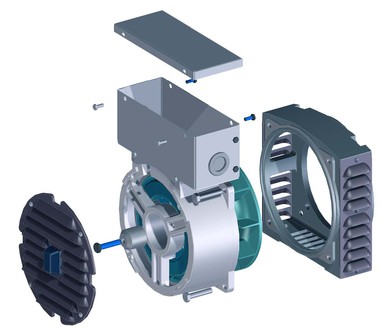 The Fisso DC Permanent Magnet Generator is designed to supply specialist lamps on lighting towers, such as high efficiency LEDs and have an in-built rectifier bridge.
The determinable fixed speed is selected depending on application and DC voltage levels can be adapted to suit operational requirements.
With a PMG system, there are several benefits to the more traditional AC systems:
Smaller compact system
Higher efficiency
Speeds other than synchronous can be fixed to optimise engine power, fuel consumption and voltage output
High power density reducing weight (both alternator and for the engine)
Increased reliability of system removing traditional excitation windings