OUR ALTERNATOR ACCESSORIES RANGE
Our customers can be confident that they can specify a product suitable for a given application. Therefore, if required, we can offer a large range of accessories, components and parts that can be fitted to our alternators to further enhance performance.

PARALLEL OPERATION
On request, it is possible to install parallel operation equipment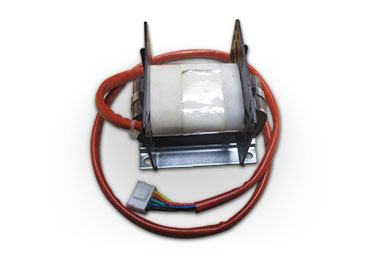 PARALLEL DEVICE PD 500
The PD parallel device is a unified module allowing generators to operate in parallel among themselves with the typical voltage drop or with constant voltage.
Parallel devices (PDs) are fitted as standard on generator series 40 - 43 - 46; for the other series, it is available on request. (See Parallel Operation Manual or Grid Guidelines for further information.)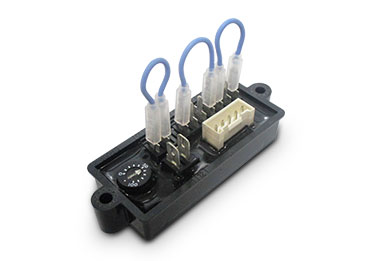 PD-I
The PD-I (Parallel Device Interface) is the module that allows to interface PD, alternator and regulator. It receives as input the alternator sensing voltage and sends it to the AVR for adjustment.
The DROOP trimmer allows to perform a fine regulation of the PD voltage droop, with a maximum range from 0 to 8% of the reference voltage, depending of the specific alternator and load condition.
ENVIRONMENTAL CONSIDERATIONS
In considering the operational environment, the following accessories may be required

ANTI-CONDENSATION HEATERS
Our whole range can be fitted with anti-condensation heaters of adequate power sized to alternator kVA.
Voltage for heaters must be specified when ordering. New cylindrical cartridge style heaters are available on request.
These new cylindrical heaters can be retrofitted.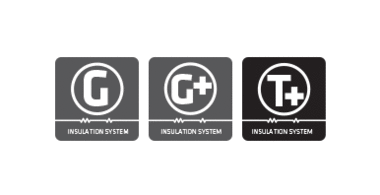 ADVANCED INSULATION SYSTEMS
We use Class H insulation protection as standard, but with an additional coating of grey EG43 varnish, which is a high temperature insulating enamel, we further protect the machine against moisture and chemical ingress.
This GREY protection level is now standard for machines above 85kVA. If you find an even harsher and more demanding environment, it is possible to further enhance this level of insulation protection. The TOTAL+ protection level uses a black flexible compound which is the ultimate winding treatment and offers superior protection in really harsh or demanding environments. This rubber-like protection encapsulates the windings and seals them from moisture and chemical attack. In addition, it is also resistant to particle abrasion as it deflects any impacts. On some machines a de-rate is applied if this option is applied.

INTAKE AIR FILTERS
Environmental conditions for our generators are extremely diversified. There are some very restrictive standards concerning the protection degree of machines that, in certain circumstances, must be applied. As standard, the Mecc Alte range is IP23, however upgrade systems are available to comply with IP23+, IP43 and IP45 of IEC standards.

RADIO INTERFERENCE SUPPRESSORS (RIS)
Mecc Alte generators comply with the main standards of radio suppression. To comply with even more restrictive standards such as Mil STD 461 upon the customer's request, it is necessary to fit special filters in the generators, which Mecc Alte is able to design and manufacture.
TOTALLY ENCLOSED UNITS
Although not available as an accessory to retrofit, we can offer totally enclosed (TEFC) machines. These comply with IP54 and IP56 protection standards.
THERMAL PROTECTION
On request, it is possible to install one of the following devices as thermal protection.
PTC THERMISTORS
These components are assembled in the heads of the stator windings. They are usually set to trip at 150°C. When the pre-set temperature is reached, the thermistors emit a signal that can be used by a trigger device (not included) to protect the generator.
PT100
The resistance of this device varies proportionally to the temperature of the winding where it is assembled. If combined with a thermostat (not included) it allows to set the temperature to the desired value at which the whole protection system trips out.
BIMETALLIC OVERLOAD PROTECTIONS
These devices have a Normally Closed contact that trips immediately when a pre-set temperature is reached. If the temperature decreases, the contact resets automatically.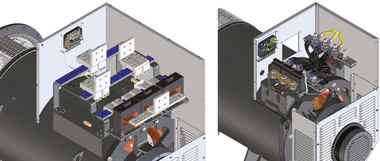 CT (CURRENT TRANSFORMERS)
Mecc Alte offers, on ECO 40, 43 and 46, a range of current transformers pre-installed on the generator. We can offer current transformers on customer's spec, for protection or measurement or even with a dual output.
The current transformers are also available with a retrofit kit that can be installed conveniently.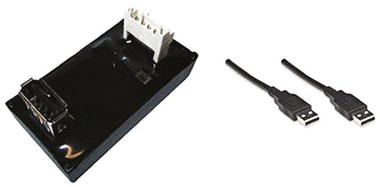 DLI AND DXR-INTERFACE BOARD
The interface device permits connection of the DSR digital regulator to a home computer or a PLC-monitoring device. It can work with RS232, USB or RS485 protocols.
If a computer is used, Mecc Alte offers this software solution to fully monitor and program its voltage
regulators, which are the DSR terminal and the DSR reader.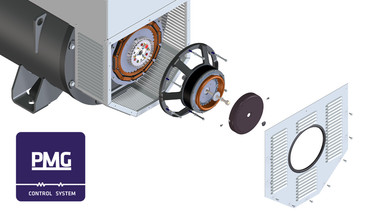 PMG (PERMANENT MAGNET GENERATOR)
The PMG System allows the fitting of a kit which adds a PMG onto the existing generator. This means that the MAUX auxiliary can act as a backup in times of trouble. There is no need to change the AVR, a kit can be kept in stock and retrofitted to our alternators above 400kVA. From 180kVA to 350kVA (50Hz), the PMG is factory fit only. The performances in terms of overload ability and transient responses are the same as with the MAUX and shown in the machine's data sheet.
The Mecc Alte PMG is available on ECO38 as a factory-fitted option, or on ECO40, ECO43 and ECO46 as a factory-fitted or retro-fitted option.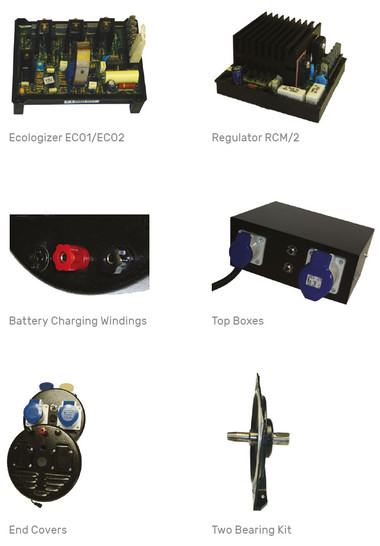 ECOLOGIZER ECO1/ECO2
In case of power drop, the ecologizer is a device which, by controlling an actuator, operates on the engine governor reducing its speed and allowing a reduction in fuel consumption, acoustic and atmospheric pollution.
REGULATOR RCM/2
A patented electronic device designed to improve precision on output voltage on capacitor-controlled alternators.
This enables the alternator to reach higher performances as far as voltage stability is concerned, regardless of changes in engine speed, load and temperature conditions.
BATTERY CHARGING WINDINGS
All alternators are available with an optional 12V direct current (DV) battery charging winding and battery
charging terminals.
TWO BEARING KITS
For the portable range, it is possible to buy a kit that can be retro-fitted to the alternator to create two bearings with a parallel key way and additional front feet. (This option is available factory-made on the larger single phase and three phase machines.)
END COVERS
A vast variety of end covers with sockets, breakers and changeover switches is available. Schuko and CEE sockets can be fitted to end covers in many variations to enable quick and easy assembly.
TOP BOXES
Many variations of top boxes are available fitted with sockets, circuit breakers and changeover switches.
These can be directly fitted to the alternators.
INGRESS PROTECTION
Machines are IP21 as standard. Upgrade kits or options for IP23 and IP45 are available on most models.
GEARBOX
Heavy-duty, high quality oil bath gearbox with protective plastic guard.

CONTROL BOX
Rear-facing, providing easy monitoring from tractor, the control box is protected to IP54.
Simple and reliable, the control box is available in 1 phase or 3 phase options.
Both options contain either voltmeter, amperemeter and frequency meter plus hourmeter set for easy use. Fitted with two BS4343 external outlet sockets for simple connection whilst protecting the user from misuse.
In addition, a 3 phase 30 milliamp differential switch and a double pole circuit breaker provide protection.
FRAME
Black coating, mechanically welded frame with 3-point linkage system. Easy lifting points for simple transportation. Open access to gearbox for simple maintenance.
FLEXIBILITY AND OPTIONS
Product is supplied worldwide into a range of applications mainly into the agricultural industries, however the generator is highly flexible and can be used anywhere power is needed and a tractor drive is available. Larger units are typically supplied for static installation, whereas the smaller units are highly portable and this mobility enables power wherever the tractor can reach.
In addition, a number of options are available to further enhance the durability of the product depending on its operating environment.
IP45 – Enhance ingress protection (output de-rate applies).

Anti-condensation Heater – Heaters used to warm the stator and dry out any moisture.

TOTAL+ Protection – A special black rubber compound applied to the main stator, making it impermeable and chemical-resistant.

Frame Upgrade – Zinc coating to add to the design appeal of the product and to further prevent rusting from extended exposure to the environment.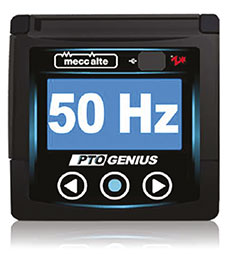 DIGITAL DISPLAY OPTION
The PTO Genius is an advanced control module that controls the electrical parameters of the generator.
H2, Vac, Amps, kVA can all be controlled and monitored.
The display is large and easy to read in all conditions and guides the operator on safe use and running conditions.
Running hours are logged ensuring maintenance schedules are easy to follow to further extend life cycle.
ACCESSORIES TO ENHANCE ALTERNATOR PERFORMANCE
Our range of alternator accessories, such as plugs, changeover transfer panels and Cardan drives are available upon request.