| | |
| --- | --- |
| | ACCESSORIES |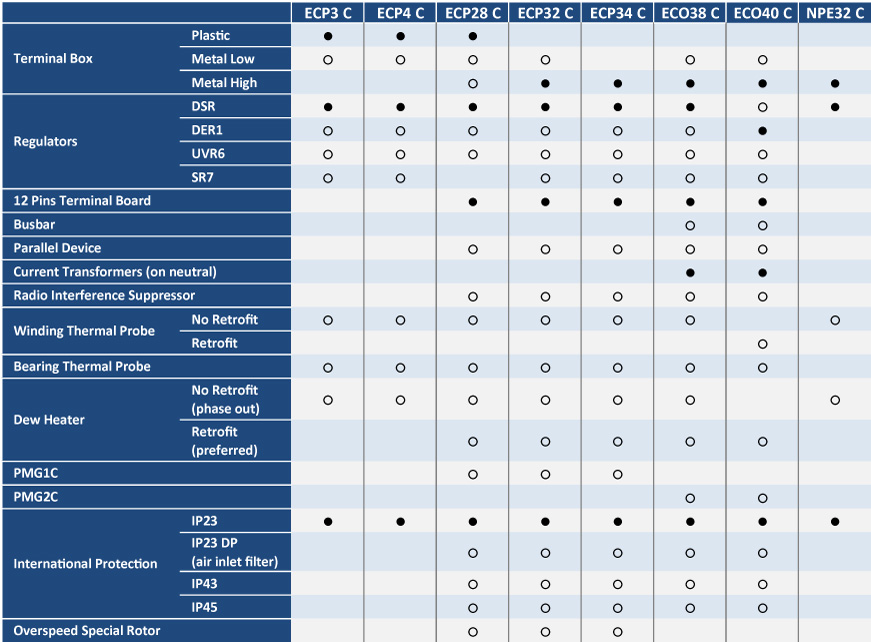 NOT ALL ACCESSORIES ARE COMPATIBLE EACH OTHER
---
EXCITATION SYSTEM
Main excitation system of C-TYPE alternators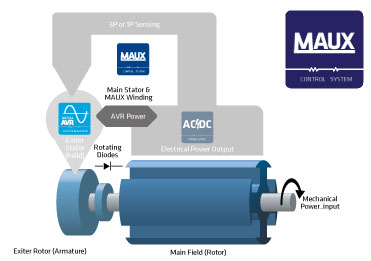 MAUX (AUXILIARY WINDING SYSTEM)
The MAUX Mecc Alte Auxiliary Winding is a separate winding within the main stators that feeds the regulator. This winding enables every one of our alternators to take an overload of 300% forced current (short circuit maintenance) for 20 seconds. This is ideal for motor starting requirements.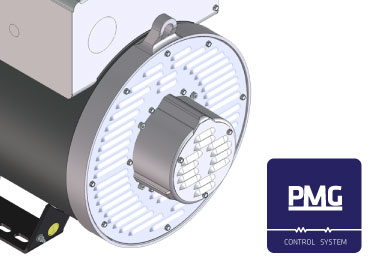 PMG
The PMG System allows the fitting of a kit which adds a PMG onto the existing generator. This means that the MAUX auxiliary can act as a backup in times of trouble. The performances in terms of overload ability and transient responses are the same as with the MAUX and shown in the machine's data sheet.
The Mecc Alte PMG is available on ECP28, ECP32, ECP34 and ECO38 as factory-fitted option; alternatively, only the predisposition for the retrofit, for subsequent assembly, is available on option. On series ECO40 is available as a factory-fitted or retro-fitted options.
TERMINAL BOX
On request, it is possible to install terminal box equipment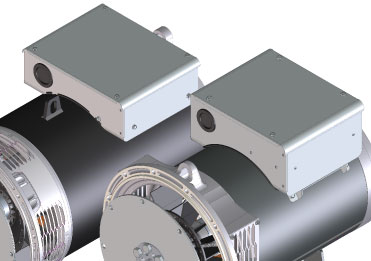 LOW TERMINAL BOX
The new C-TYPE series features several options including the new low profile terminal box. This terminal box has been designed for applications that require small dimensions. Its design was studied taking into account all the Mecc Alte available accessories and the regulator.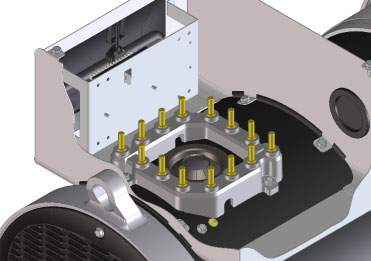 TERMINAL BOARD 12 WIRES
The new terminal board of the C-TYPE series has been designed to be combined with a second twin terminal board thus making 12 connection pins available for greater flexibility in connecting the various cables.
PARALLEL OPERATION
On request, it is possible to install parallel operation equipment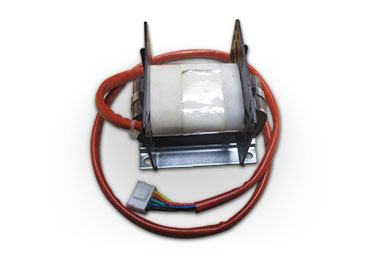 PARALLEL DEVICE PD 500
The PD parallel device is a unified module allowing generators to operate in parallel among themselves with the typical voltage drop or with constant voltage.
Parallel device (PD) it is available on request. (See Parallel Operation Manual or Grid Guidelines for further information.)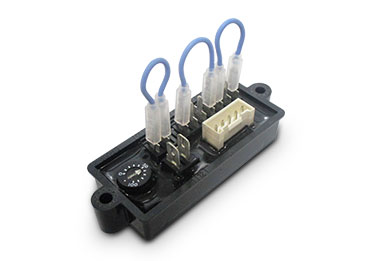 PD-I
The PD-I (Parallel Device Interface) is the module that allows to interface PD, alternator and regulator. It receives as input the alternator sensing voltage and sends it to the AVR for adjustment.
The DROOP trimmer allows to perform a fine regulation of the PD voltage droop, with a maximum range from 0 to 8% of the reference voltage, depending of the specific alternator and load condition.
ENVIRONMENTAL CONSIDERATIONS
In considering the operational environment, the following accessories may be required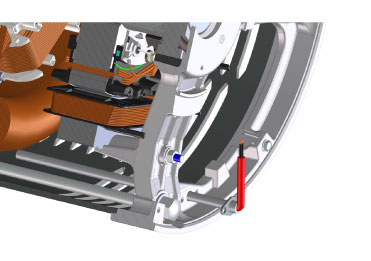 ANTI-CONDENSATION HEATERS
Our whole range can be fitted with anti-condensation heaters of adequate power sized to alternator kVA. Voltage for heaters must be specified when ordering. New cylindrical cartridge style heaters are available on request.
These new cylindrical heaters can be retrofitted.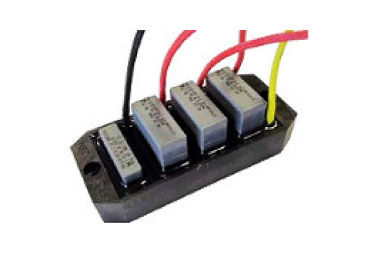 RADIO INTERFERENCE SUPPRESSORS (RIS)
Mecc Alte generators comply with the main standards of radio suppression. To comply with even more restrictive standards such as Mil STD 461 upon the customer's request, it is necessary to fit special filters in the generators, which Mecc Alte is able to design and manufacture.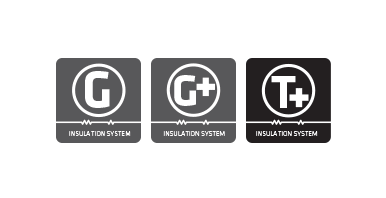 ADVANCED INSULATION SYSTEMS
We use Class H insulation protection as standard, but with an additional coating of grey EG43 varnish, which is a high temperature insulating enamel, we further protect the machine against moisture and chemical ingress.
This GREY protection level is now standard for machines above 85kVA. If you find an even harsher and more demanding environment, it is possible to further enhance this level of insulation protection. The TOTAL+ protection level uses a black flexible compound which is the ultimate winding treatment and offers superior protection in really harsh or demanding environments. This rubber-like protection encapsulates the windings and seals them from moisture and chemical attack. In addition, it is also resistant to particle abrasion as it deflects any impacts. On some machines a de-rate is applied if this option is applied.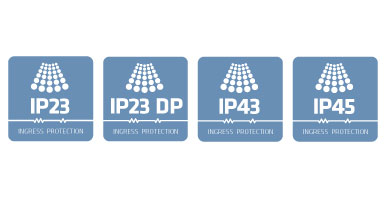 INTAKE AIR FILTERS
Environmental conditions for our generators are extremely diversified. There are some very restrictive standards concerning the protection degree of machines that, in certain circumstances, must be applied. As standard, the C-TYPE range is IP23, however upgrade systems are available to comply with IP23 DP (air filter inlet) IP43 and IP45 of IEC standards.


THERMAL PROTECTION AND RESISTORS
On request, it is possible to install one of the following devices as thermal protection.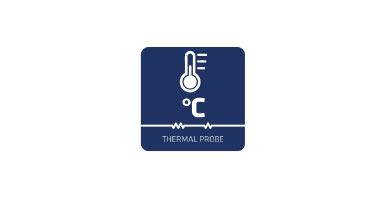 PTC THERMISTORS
These components are assembled in the heads of the stator windings. They are usually set to trip at 150°C. When the pre-set temperature is reached, the thermistors emit a signal that can be used by a trigger device (not included) to protect the generator.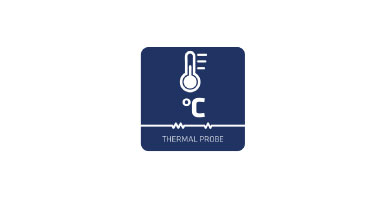 PT100
The resistance of this device varies proportionally to the temperature of the winding where it is assembled. If combined with a thermostat (not included) it allows to set the temperature to the desired value at which the whole protection system trips out.
BIMETALLIC OVERLOAD PROTECTIONS
These devices have a Normally Closed contact that trips immediately when a pre-set temperature is reached. If the temperature decreases, the contact resets automatically.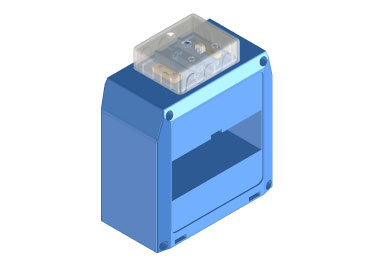 CURRENT TRANSFORMERS
Mecc Alte offers, on ECO38 and ECO40, a range of current transformers pre-installed on the generator. We can offer current transformers on customer's spec, for protection or measurement or even with a dual output. The current transformers are also available with a retrofit kit that can be installed conveniently.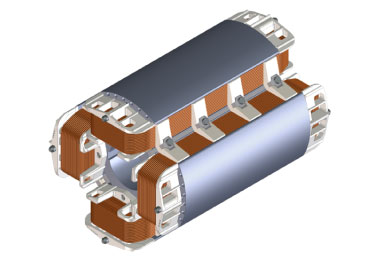 OVERSPEED ROTOR
The Rotors of the new C-TYPE series are available in different configurations to allow greater flexibility in the choice, based on the final application. This allows the alternator to be adapted, reaching overspeed up to 3200 RPM.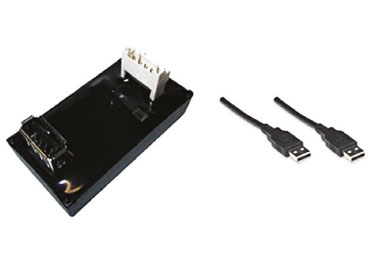 DLI AND DXR-INTERFACE BOARD
The interface device permits connection of the DSR digital regulator to a home computer or a PLC-monitoring device. It can work with RS232, USB or RS485 protocols. If a computer is used, Mecc Alte offers this software solution to fully monitor and program its voltage regulators, which are the DSR terminal and the DSR reader.