MOBILE POWER ALTERNATORS

As commercial alternator manufacturers, Mecc Alte has been at the forefront of alternator design and manufacturing for many years and our extensive product and market expertise has led to the development of an innovative portable generator range.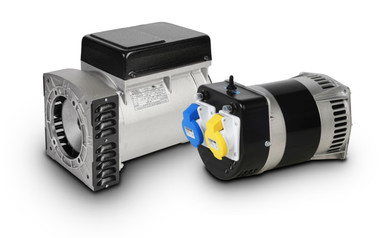 Where portable power is needed the Mecc Alte alternators range has many product features designed into the alternator.
Self-regulation is obtained through a digital electronic regulator that is fed by an auxiliary winding. We guarantee an almost constant supply from the generator – under any possible operating condition. A rotating inductor is fitted with a damper cage.
The windings have a 2/3 pitch in order to reduce the harmonic content of voltage.
The entire series is manufactured according to, and complies with, the most common specifications such as CEI 2-3, IEC 34-1, EN 60034-1, VDE 0530, BS 4999-5000, CAN/ CSA-C22.2 No14-95- No100-95.


MECHANICAL STRUCTURE
Covers are manufactured through die-casting in high resistance aluminium alloy and the shaft is C45 steel. Ventilation is performed through fans splined onto the shaft. The rotor is designed with slots which affords greater reliability in case of overspeed. Bearings are sealed for life, and sourced from premium brand manufacturers.
For single phase the standard protection degree is IP21 or IP23; upon specific requests, higher protection levels such as IP45 and IP55 can be achieved.
For three phase the standard protection degree is IP23; upon specific requests, higher protection levels such as IP45 can be achieved.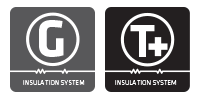 INSULATION AND IMPREGNATION

Insulation is of Class H standard. Impregnation is made with premium tropicalised epoxy resins by dipping and dripping. Rotors are processed with an innovative roll and dip system that achieves market-leading impregnation levels. Other special treatments for particular environmental conditions are available on request, such as GREY protection using a grey EG43 varnish or TOTAL+ protection which uses a black severe environment protection to give the ultimate winding treatment and assures superior performances in harsh or demanding environments. (Please refer to the Insulation Protection Systems Handbook for more information).
DAMPERS AND SKEWED ROTOR
The rotor is skewed and fitted with dampers, this means efficiency is slightly compromised in order to offer improved waveform. This superior waveform system guarantees a limited harmonic distortion suitable for modern loads such as speed control tools and sensitive electrically-controlled equipment.
VOLTAGE FLEXIBILITY
The 220/110V 4 wire terminal is the standard although we can offer the multi-functional 230/115/57V winding where Centre Tap to Earth (CTE) is required. In addition, we can also offer dedicated 110/55V for volume when specifically requested along with other voltage combinations.
AUTOMATIC VOLTAGE REGULATOR OPTION: RCM/2 - CAPACITOR AVR
The RCM/2 regulator is designed as an up-fit for the capacitor-controlled 1 phase alternators. With careful selection of replacement capacitors, the RCM/2 improves steady state regulation and eliminates the on load, off load voltage characteristic of the standard capacitor-controlled 1 phase alternators.
AUTOMATIC VOLTAGE REGULATOR RANGE: ASR (ANALOGUE SIMPLIFIED REGULATOR)
New slipring Analogue Simplified Regulator (ASR) range – for greatly improved motor starting when compared to the standard capacitor control 1 phase machines. The 3 phase models gain greater voltage stability compared to the standard range. Fitted with unique voltage setting point and exclusive under frequency protection.
AMAZING ADAPTABILITY
We offer a customised product with a vast number of end covers and options e.g. Schuko/CEE socket. We can offer 12V direct current options for battery charging. We offer twin bearing kits on some models. We also offer top boxes and, on our alternators, the degrees of protection can be upgraded to IP23 and IP45 and even IP54 under special request. We also have a variety of coupling styles to suit most prime movers.
PRODUCT FEATURES

SINGLE PHASE
SELF-ENERGISING
An auxiliary winding, angle-shifted compared to the power winding and charged by a capacitor, ensures the generators are self-energising.
SELF-ADJUSTMENT
The rectification of the inducted voltage from the inverse field of the rotor, as a function of the charging current, ensures a good adjustment of the generator's output voltage.
REDUCED SPEED RUNNING
The self-protection of the portable series allows it to operate on a reduced speed without fear of damage to the alternator.
VOLTAGE ADJUSTMENT
The no-load output voltage may be adjusted by +/-5% operation by adjusting the air gap of the transformer.
TEMPORARY VOLTAGE DROPS
Introduction of the rated voltage, starting from idle to rated speed, causes a temporary voltage drop lower than 9%.
RESPONSE TIMES
For a sudden introduction of the rated load under a constant speed, the voltage returns to the rated voltage in less than 0.1 seconds.

If you have any questions regarding our mobile power alternators, please don't hesitate to get in touch with a member of our specialist manufacture and alternator product support team.