400Hz ALTERNATORS

Mecc Alte produces a range of 400Hz alternators, typically used in ground power units GPU our range from 5 – 200 kVA is built for high reliability when power supply is critical.
As alternator manufacturers, our 400Hz alternators have high levels of performance and are designed with product-enhancing features. Unique special machines to suit individual applications are available, with innovative design to assure the lowest possible losses that is so critical in 400Hz alternators. Our 400Hz alternators are supported through an experienced and computer-assisted FEM design, our professional team is able to ensure exceptional support both pre and post order.


EXCEPTIONAL EXCITATION

The 'MAUX' (Mecc Alte Auxiliary Winding) is used throughout the range of alternators, and has been aproven standard for Mecc Alte in all market sectors. It is a brushless excitation system deriving power from a dedicated auxiliary winding within the main stator. This winding is protected by four layers of polyester in addition to the clear varnish and EG43 environment protection used in the most demanding applications. Fitted within the main stator, it minimizes overall dimensions of the alternator and
ensures a compact machine.
This system ensures a high level of motor start ability, and surpasses the industry requirements giving >300% forced current (short circuit maintenance) for 20 seconds.


INSULATION AND IMPREGNATION

Insulation materials used provide a system insulated to Class H level. Superior processes are employed to add an EG43 compound after insulation over the main and exciter windings to give a very high standard of protection. Higher levels such as TOTAL+ protection, a black flexible compound, are also available on request.
RADIO INTERFERENCE SUPPRESSION
The standard generators comply with the specification VDE 0875, degree "N" and with the basic safety requirements of the European regulation on electromagnetic compatibility; by applying the EN 60034-1 and Aviation rules, we comply with the above-mentioned regulation. Other standards can be achieved by adding filter sets supplied by Mecc Alte. Military grade suppression levels are available upon request.
UVR6-H400B
The UVR6-H400B regulator is an advanced compact electronic regulator used for 400Hz machines.
This regulator is equipped with low speed and overload protection with an adjustable intervention threshold, it has adjustable voltage stability and off ers the possibility for a remote voltage regulation with three phase sensing capability. It can work with a Mecc Alte Line Drop Compensator (LDC) used to compensate the voltage fall in the longest distribution lines.
CONSTRUCTION
Rigid steel frames (FeP12)
Dynamically balanced rotors with ½ key (ISO 8821), conforms to Class G.2.5 (ISO 1940)
Copper damping cage from 45kVA 20 poles and up, for superior transient load performances
BEARINGS
Sealed-for-life premium bearings as standard, or insulated bearings upon request.
RELIABILITY
Standardized components are used with 'families' of industrial machines to give very high degrees ofinterchangeability. Lower component count throughout the range, and also within individual machines, has focused eff orts to enhance the reliability of the products.
In testimony to this, the reliability prediction according to the military standard MIL-HDBK-217F, was a failure rate of 75,82 fpmh (failures per million hours), 13,189 hours mtbf (mean time between failures).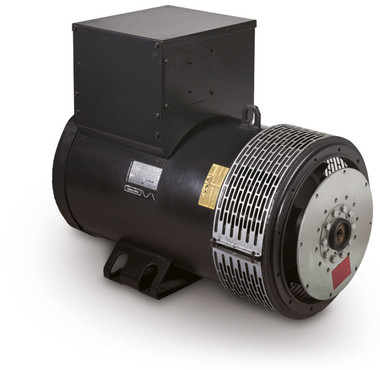 MINIMUM MAINTENANCE
As Aircraft alternator manufacturers, our 400Hz Aviation alternators are built with low maintenance in mind. Bearings have up to 40,000 hours' life expectancy and windings have high degrees of protection. Where maintenance is necessary, access is very simple, making servicing an ease. In addition, the commonality of parts ensures worldwide spares availability.
COMPACT DIMENSIONS
The Mecc Alte 400Hz Aviation alternators are amongst the most compact and light alternator packages available. This, coupled with market-leading efficiency, highlights the superior ability of Mecc Alte in the design and production of their alternators. DC generators or custom projects on different pole numbers are available on direct request.
ACCESSORIES

A large number of accessories are available on request, including:
Anti-condensation heaters
Temperature detectors (thermistors or PT100), for windings and/or bearings
Higher degrees of mechanical protection (IP23, IP45 or inlet air filters)
Line drop compensator (LDC)
Advanced Winding Protection Systems