DATA CENTRES ALTERNATOR MANUFACTURERS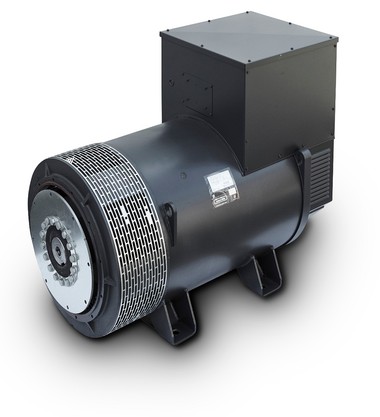 Mecc Alte are highly a reliable and efficient data centre alternator manufacturers offering critical protection solutions to many data center operators.
The advanced digital Automatic voltage regulator and the high build specification ensure each product is suitable to support UPS systems and electrical installations. Sized according to critical loads and associated infrastructure, our reliable CHP alternators provide back up to data centres in the event of prolonged power outages. In other applications, the generators can be used as the primary source of power.
Our extensive experience in the power generation industry, as well as our diligent studies and thorough research, has led to the development of our full alternator range. In-built features and highly customisable products allow our alternators to provide peace of mind when power is needed.
As CHP alternator manufacturers, standard low voltage products are performance enhanced with rich designs in order to meet the demands of the applications in which they operate. These features are standard across the ranges allowing peace of mind to our customers who need reliable power supply.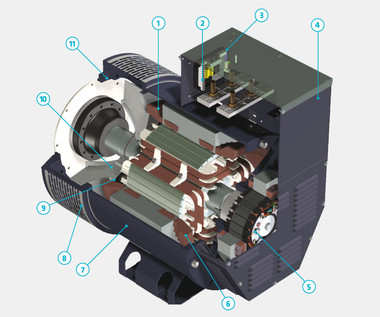 FEATURES
1. Low reactance stator
2. DSR/DER – digital regulator with multiple settings and real-time memory, logging any faults in operation
3. Single regulator can be used throughout the range
4. Innovative design with low weight and compact size
5. Easy access to check diodes
6. MAUX system auxiliary winding as standard providing >300% short circuit current. PMG optional on 180kVA and above
7. Rugged design (withstands up to 7G)
8. FEM-assisted design of the magnetic circuit for optimum performance and maximum efficiency
9. MAUX system offers dedicated and isolated power supply to the regulator
10. 2/3rds pitch winding to eliminate harmonics
11. Flexible design accommodates many winding voltages and many coupling types


MECHANICAL STRUCTURE

The robust mechanical structure permits easy access to the connections and components during routine maintenance check-ups.
The materials used in the mechanical structure are FEP12 steel for the frame, C45 steel for the shaft and cast iron for the end-brackets.
The standard degree of alternator protection is IP23.
Other higher degrees of protection, such as IP45 and IP55, are available on request.


INSULATION AND IMPREGNATION

Insulation is of Class H standard. Impregnation is made with premium tropicalised epoxy resins by dipping and dripping. High voltage parts are impregnated by vacuum, so the insulation level is always very good. In the high-power models, the stator windings undergo a second insulation process. GREY protection is standard on larger power machines where an additional layer of grey EG43 varnish is applied on the main and exciter stator to give enhanced protection. Other special treatments for particular environmental conditions are available on request; TOTAL protection and TOTAL+ protection which use a black flexible compound to give the ultimate winding treatment. This black compound system assures superior performances in harsh or demanding environments. (Please refer to Insulation Protection Systems Handbook for more information.)

VOLTAGE ACCURACY
The voltage accuracy is +/-0.5% (DER) in static condition, with any power factor and with speed variation between 5% and +30% with reference to the rated speed.
VOLTAGE REGULATION
The voltage can be regulated by the volt potentiometer on the electronic regulator or by an external control device, commonly used by the genset industry to govern the genset. With our digital AVRs, it is possible to control and adjust the range of voltage, electrically through our compatibility software. In addition, password protection can be set to avoid any possible trouble that can be made by less skilled personnel.
TRANSIENT VOLTAGE AND RESPONSE TIMES
At a full load, no load and at constant speed there is a transient voltage variation lower than 15% of the rated power. In such conditions, the 3% voltage resetting will occur in 0.2 seconds for powers up to 300kVA, while for higher powers it will occur in 0.3 seconds. (Refer to the User Manual for more detail).
PARALLEL OPERATION
The alternators with damper cage (>7.8kVA) can function in parallel among themselves, not withstanding the type of alternator and/or in parallel with the mains provided they are equipped with a droop transformer. This device is available upon request for the alternators up to type 38, while the alternators with a higher power are equipped with this as standard equipment. In case of parallel with the mains, we offer the P.F.R. 96/2 electronic device which controls the alternator's reactive current and/or power factor of the alternator.
OVERLOAD
The permissible overloads are of 300% for 20 seconds, of 50% for 2 minutes and of 10% for 1 hour every 6 hours of operation.
RADIO INTERFERENCE SUPPRESSION
The standard generators comply with the specification VDE 0875, degree "K" and the basic safety requirements of the European regulation on electromagnetic compatibility. By applying the European standards EN 60034-1, we comply with the above mentioned regulation. Upon request, we are available to study and produce EMC filters according to more restrictive specifications.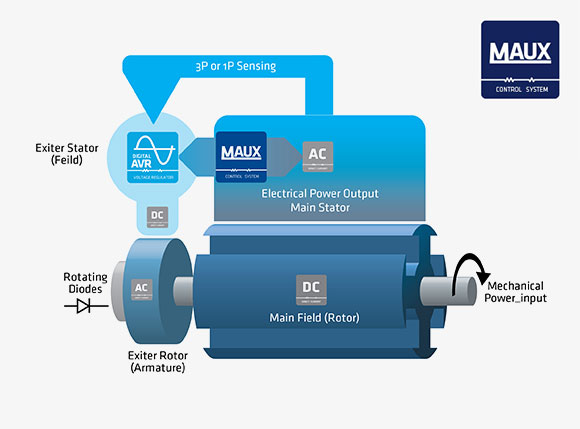 AUXILIARY WINDING

MAUX (Mecc Alte Auxiliary)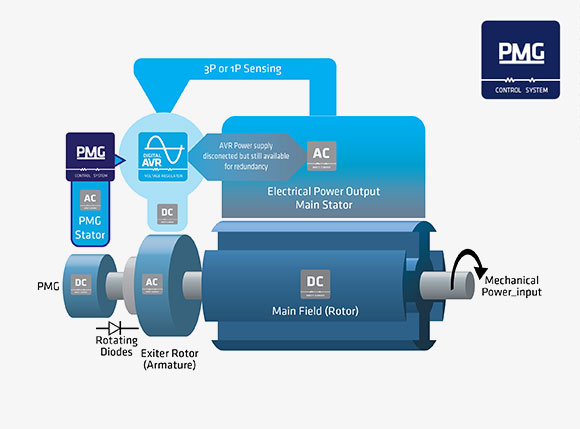 PMG (PERMANENT MAGNET GENERATOR)

PMG (Permanent Magnet Generator + Auxiliary)
FOR MORE TRADITIONAL USERS OUTSIDE OF THE MAUX SYSTEM WE CAN OFFER A PERMANENT MAGNET GENERATOR.

This is available on ECO38 ECO40, ECO43 and ECO46 series:
(180 – 2750kVA) series as a factory-fitted option. In addition on the ECO40, ECO43 and ECO46 series
(400 – 2750kVA) this option can be retrofitted allowing our customers to keep minimal stock.