Our technical knowledge allows us to develop customised power solutions through many different types of alternator. The following list is a brief description of some of the special products that exist in our vast product library, all purpose built to meet a specific market need.
AC-DC LOW VOLTAGE

The AL series of low voltage generators use established synchronous alternator technology to develop lower than usual voltages for specific applications. Using 1ph, 3ph 6ph or even 9ph AC windings for varying degrees of precision, the low voltage AC output can be rectified to DC through a machine-mounted rectifier cooled by an integral fan. In DC, you have no limit of voltage although typical requirements of 24VDC (aircraft starting) and 48VDC (telecom) are most common. Voltages may be much higher such as 220VDC for use in magnetic cranes.
For the applications, designs exist in aircraft starting to provide 28VDC 750A continuous and 2500A transient power as the aircraft starts. For telecom a clean power supply down to 2% ripple is possible without the need for complex invertor technology.
In DC, the machine is regulated by our RT regulator, specific to the DC machines. This regulator can be used to regulate voltage only or to simultaneously regulate current and voltage required – as required in battery charging mode. DC Systems are not restricted to a synchronous speed, so you can have fixed, 2 speed or variable speed within certain limits. You can then use these machines at the most fuel-efficient speed for the engine such as 2200-2500rpm.
The same machines without rectifier can be used for other applications or where rectifiers are supplied by others – such as 35VAC to give 48VDC off the customer's rectifier. Here we act as a component supplier to a complete DC system.
Frame design is the same as for conventional AC machines so no changes are required to genset bedframe or enclosure, making a switch to DC very simple.
ZEUS WIRE FEEDER

The ZEUS-MMA wire feeder is a feeding unit designed for use in CC and CV welding installations to feed hard, soft tubolar (cored) wire.
This unit is a benchmounted, semiautomatic, wire feeder wich operates on the arc voltage from a constant current or constant potential DC arc welding power source. The two drive roll feeder and permanent magnet motor are housed in a polypropylene case.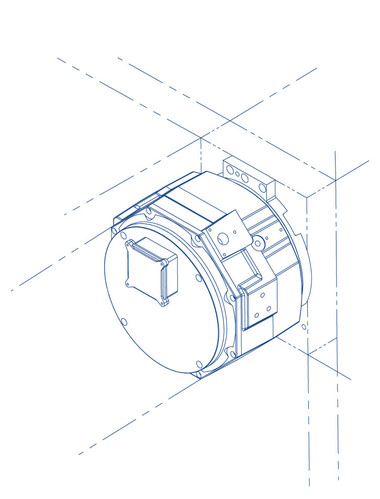 OTHER PRODUCTS
Induction generators for CHP applications
Alternators for marine and CHP applications
Modified shafts and frames for special applications
Synchronous generators with squirrel cage rotor with starting capability
DC machines (AC rectified) for battery charging and telecom applications
DC machines for many applications such as duties for ground support applications with high 'S3', or for powering magnetic cranes
Sales of generator components only (stator or rotors)
Low voltage generators for heavy duty marine applications
Special voltage generator, either AC or DC
Basics range of simplified asynchronous alternators available as:
• 2 pole, brushed or brushless
• 4 pole, brushed or brushless
Variable speed generators
Do not hesitate to contact Zanardi if you require further information